CHAOS bracelet
$

135.00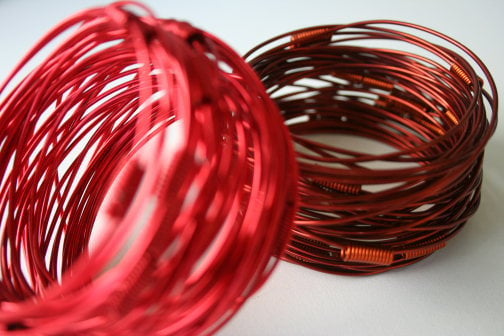 Made to Order (allow 5-7 days for production and processing before shipping)
Made from 30+ continuous feet of chaotically (and strategically) wound reclaimed magnet wire. It was originally destined for a motor, but now it's destined for your wrist.
Please note sizing at checkout - the important measurement for this style is the width of the hand (thumb and pinking touching), not wrist!
Pros:
Great for people with metal sensitivities because the copper is enameled so the metal doesn't touch your skin.
Doesn't get hot in the sun.
Seen in People Magazine and the movie Divergent.
Cons:
People will stop you on the street to ask about it. Or maybe you'll like that...
U.S. Orders - Shipping Included - Fedex Ground
International Orders: USPS, $8 ($2 with another item)
Accepted: Visa, Mastercard, Amex, Discover, JCB, Diners Club, Paypal
♻︎
#magnetwire #alternatorwire #copper #redjewelry #copperjewelry #upcycledjewelry #sustainabledesign #wiredresistance #wiredjewelry #wired #hypoallergenicjewelry #divergent #peoplemagazine
Share